Wetlands are areas where water is present at or near the surface of the soil. They are one of the most threatened of all ecosystems in India. Their ecosystem suffers due to encroachment for construction, garbage dumping sites, and dumping of sewage water into them.
Wetlands play important role in our ecosystem. Their spongy soil acts as water storage and help control flood by absorbing excess water during water. They also provide a pathway for rainwater to seep into underground aquifers, thereby facilitating aquifer recharge. They also play role in carbon sequestration. Wetlands are a transitional biodiversity ecosystems, between land and water, and host diverse species of birds.
India's National Wetland Atlas was prepared by Indian Space Research Organisation (ISRO) in the year 2011.
Ramsar Convention on Wetlands of International Importance
The Ramsar Convention is an important international treaty on conservation and sustainable use of wetlands. It was signed in the city of Ramsar in Iran in 1971.
The Ramsar List is a list of wetlands which have representativeness of a unique ecosystem, and provide biodiversity support to various species. The recognition of a wetland in this list works as a moral prompt for conservation authorities and national governments to take action for conservation.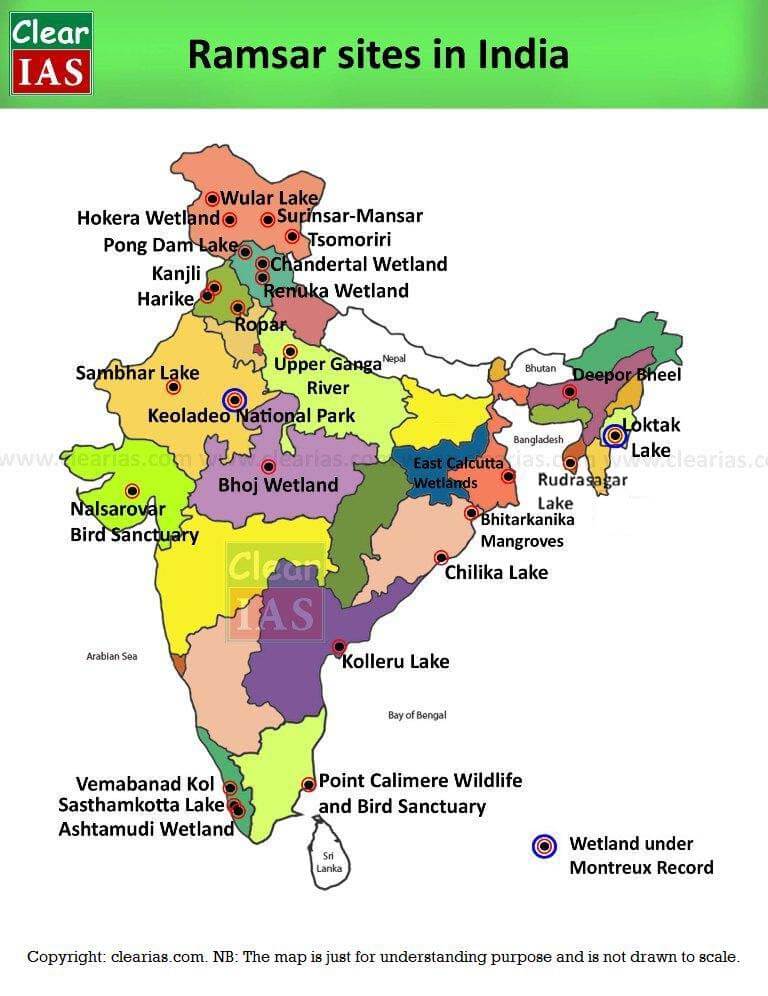 The Montreux Record, maintained as a part of the Ramsar List, is a list of wetlands where changes in ecological character have occurred, are occurring or likely to occur as a result of human interference. These wetlands are particularly vulnerable and require sustained collaborative action for their conservation. There are 2 Montreux Record sites in India:
Keoladeo National Park, Rajasthan
Loktak Lake, Manipur
Chilika Lake, Orissa

In 2002, Chilika Lake was removed from the Montreux record as conservation efforts have improved its condition.
Wetlands International
Wetlands International is a global NGO working at field level to promote conservation and restoration of wetlands. It coordinated the Asian Waterbird Census 2018 in India along with Bombay Natural History Society (BNHS) and Bird Count India.
More related information:
Some quick facts about lakes in India:
Chilika Lake in Orissa is a brackish water lake. It is Asia's largest inland salt-water lagoon.
Wular lake (Jammu and Kashmir) is the largest fresh-water lake in India.
Loktak lake – Manipur

It is the largest freshwater lake in Northeastern India. Many streams end into this lake in radially inward type of drainage.
The lake is famous for its unique floating islands – Phumdis.
It also hosts the Keibul Lamjao National Park – the only floating national park, and the only remaining natural habitat of Sangai.

Udaipur is called the city of lakes, and Venice of the East.
Tsomgo lake, Sikkim – Frozen lake of India.
Tso Lhamo lake – Sikkim – highest lake of India.
Vembanad lake – Kerala

Asia's longest lake.
Famous for Vallam Kali – snake boat race.

Upper lake (or bada talab) – Bhopal – Largest artificial lake in Asia.